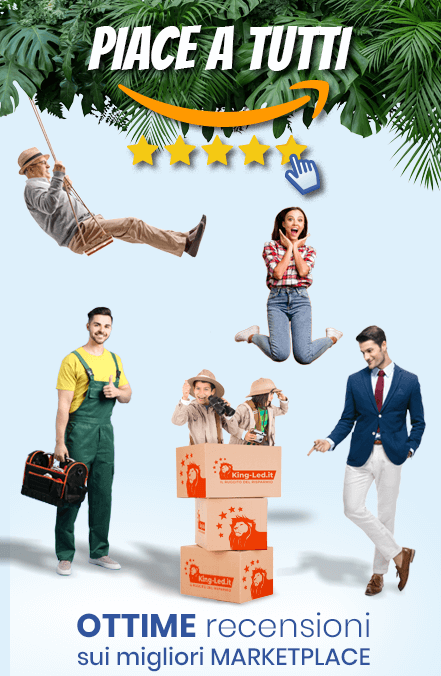 Recessed Ceiling Light in Ceramic Plaster 2132 Round Deep for GU10 Led Spotlight
Led lights Steel spotlight holder Decorazione di Interni
Hai partita iva e operi nel settore Illuminotecnica? Clicca e scopri grandi vantaggi!
A te dedichiamo solo il meglio
Diamo il giusto valore al tuo lavoro, con prezzi esclusivi e servizi dedicati grazie ai quali rendere più efficace e produttiva la tua attività quotidiana.
TI REGISTRI E RISPARMI FINO AL 30%
Iscriviti subito sul nostro sito e acquista a prezzi scontati fino al 30% i nostri prodotti di illuminazione Led.
Ma i vantaggi non finiscono qui: ti garantiamo tutta l'assistenza tecnica di cui necessiti, prodotti in pronta consegna e spedizioni rapidissime, in 24/48 ore. Dedichiamo a te, che hai partita IVA, prezzi e servizi unici.
Cosa aspetti? Registrati e segui il ruggito del risparmio.
Chiudi
2 years minimum warranty / substitution of returned product within 2 working days
Always PRIME shipping with GLS or UPS courier. Delivery within 3-5 days.
You have 30 days for withdrawal and you always get a refund.
DESCRIPTION
Recessed Ceiling Light made of high quality ceramic plaster, paintable and easy to install.
Well-finished in every detail, it has sharp and refined lines and without any hole on its surface.
Its smooth and non-porous surface make this ceiling light easy to paint.
DATASHEET
Shape: Round
Light zone Shape: Round conical
Size: 130*45mm 
Material: Ceramic Plaster
Colour: White – Paintable
Effect: Recessed, the structure is perfectly hidden in the ceiling
Compatibility: It supports GU10 or Mr16 Led or Halogen spotlights with 5cm diameter (halogen spotlights must not be more than 35W)
Application: Apartments, Shops, Stands, Showrooms, etc.
CONTENTS
1pcs Recessed Ceiling Light 
1pcs GU10 Bulb Socket with Antishock protection 
1pcs Pin to lock the spotlight 
ARE YOU A RESELLER?
You can ask us for a plain package without KingLed logo.
Be the first to ask a question about this product!