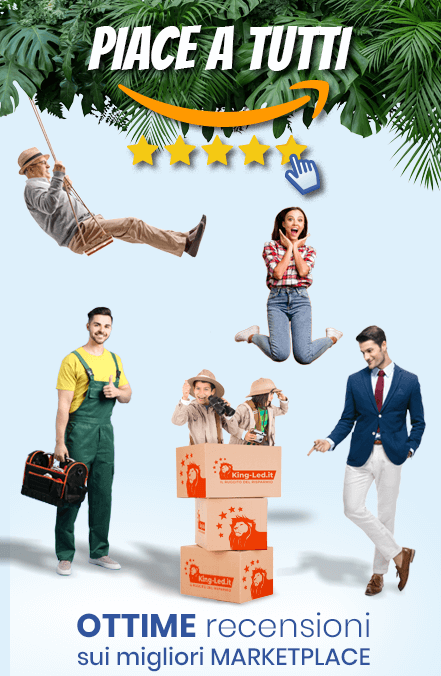 Led Strip 12V 36W RGB 5mt 150 SMD 5050 Outdoor IP65
Led strips Multicolor Led Strips Waterproof RGB 5050 4W-60W power
Hai partita iva e operi nel settore Illuminotecnica? Clicca e scopri grandi vantaggi!
A te dedichiamo solo il meglio
Diamo il giusto valore al tuo lavoro, con prezzi esclusivi e servizi dedicati grazie ai quali rendere più efficace e produttiva la tua attività quotidiana.
TI REGISTRI E RISPARMI FINO AL 30%
Iscriviti subito sul nostro sito e acquista a prezzi scontati fino al 30% i nostri prodotti di illuminazione Led.
Ma i vantaggi non finiscono qui: ti garantiamo tutta l'assistenza tecnica di cui necessiti, prodotti in pronta consegna e spedizioni rapidissime, in 24/48 ore. Dedichiamo a te, che hai partita IVA, prezzi e servizi unici.
Cosa aspetti? Registrati e segui il ruggito del risparmio.
Chiudi
2 years minimum warranty / substitution of returned product within 2 working days
Always PRIME shipping with GLS or UPS courier. Delivery within 3-5 days.
You have 30 days for withdrawal and you always get a refund.
The working voltage of the strip is 12V DC (Power Supply NOT Included)
The strip can be dimmed and cute every 3 LEDs (99mm) to fit the length you want, but the cut off part will need extra power supply and connector, or it won't light up.
Rated Power: 36W. Power Consumption: 6.5 W/m
With this LED Strip you can create a colourful environment, with light games and colour effects.
 DATA SHEET  
5M 5050 LED Strip with 3M double-sided adhesive tape backing. Waterproof IP65  
30Led/mt (150 LEDs in total), you can cut it every 3 LEDs. (99mm)  
Used with a Mi-Light Controller (sold separately) you can create infinite colours and choose your favourite.  With this LED Strip you can create a colourful environment, with both White and Coloured light games possibilities.  
The special silicone coating makes it IP65 waterproof. WARNING: Once cut off, it loses its IP65 rating.    
Connecting multiple LED strip lights together, you will need to connect them to the power supply in Parallel. It is highly suggested to install this LED strip on an aluminium bar to ensure proper cooling and thus increasing the lifespan. 

SPECIFICATION
PCB Width: 10mm
PCB+SMD 1.5mm 
Length:5 meter per roll
Voltage: 12V DC
Rated Power: 36W
Power Consumption: 6.5 W/m
LED Type: 5050 x 150pcs
Cutting Length: Every 3 LEDs (99mm)
Waterproof Type: IP65 
Dimming: Yes. 
Working Temperature:  -20° +40°
Certifications: CE / RoSH / TUV / UL
Warranty: 3 years
Be the first to ask a question about this product!