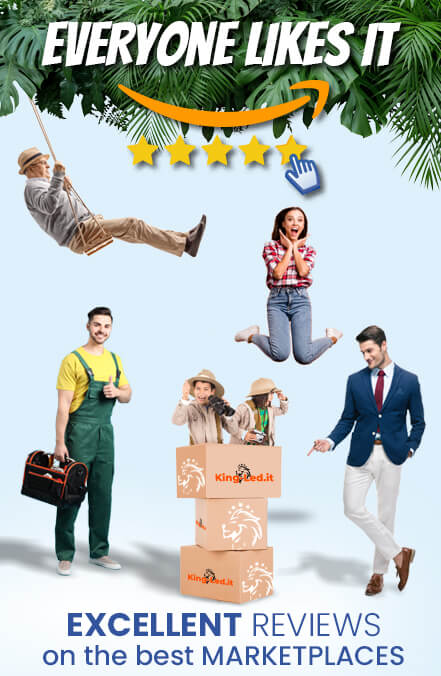 MiBoxer Mi Light FUT039S Mini RF Receiver for Strip Led RGB + CCT Multicolor RGB and Dual White CCT
Mi-Light Led strip dimmers RGB + CCT Series RGB+CCT
Do you have a VAT number and work in the lighting industry? Click and discover great advantages!
We dedicate only the best to you
We value your work through dedicated prices and services that will help you make your daily job easier and more effective.
REGISTER AND SAVE UP TO 30%
Register on our website now and buy our Led lighting products at discounted prices up to 30%.
But advantages don't end here: we guarantee you all the technical assistance you need, products ready for delivery and fast shipping. We dedicate to you who have a VAT number unique prices and services.
What are you waiting for? Register and follow the roar of saving.
Close
2 years minimum warranty / substitution of returned product within 2 working days
Always PRIME shipping with GLS or UPS courier. Delivery within 3-5 days.
You have 30 days for withdrawal and you always get a refund.
MiBoxer Mi Light Mini RGB + CCT Dimmer Receiver FUT039S Mini
MINI version, with reduced dimensions, but with the same power !!!
It allows you to manage an RGB + CCT DC 12V or 24V Led Strip.
Suitable for an RGB + CCT / RGBWW / 5 Channel Multicolor Led Strip.
It is also compatible with one or more Led Strips connected in parallel or with an RGB Led Strip + a Dual White Led Strip.
Functions
Remote Power On and Off
Brightness management from 10% -100%
Management of RGB Multicolor
White Light Management
Change Kelvin from Hot to Cold and vice versa
Set the Saturation
9 Play of Light
Increase or Decrease Game Play Speed
Reception up to 30m away.
Autosync function to operate 2 or more receivers in synchrony with each other for the reproduction of light effects or light effects.
Compatible with (not included)
Remote controls: B4, B0, B8, FUT088, FUT089, FUT092
From Smartphone and Voice Devices you need: WL-iBox1 module
DATASHEET:
* Model: FUT039S MINI
* Voltage: DC 12V / 24V
* Frequency: 2.4GHz
* Total maximum current: 12A
* Maximum control distance: 30 meters
* Size: 74.5 x 36 x 17mm
Creating a LED home automation system is simple and innovative with Mi Light MiBoxer products.
King Led SRL IS THE OFFICIAL ITALIAN MI-LIGHT® DEALER
MiBoxer® is the new sub-brand of Mi Light
CONNECTIONS
* Input for a power supply with Jack 5.5 connector
* Input V-: Negative wire of transformer (usually black)
* Input V +: Positive transformer wire (usually red)
* Output Led V +: Positive wire of the strip (usually Brown)
* Output B: Blue wire
* Output G: Green wire
* Output R: Red wire
* CW Output: White Wire
* WW Output: Yellow Wire
How to synchronize the MiBoxer FUT039S MINI to a MiBoxer remote control
- Correctly install the receiver to a power supply and led strip.
-Check that the remote control is compatible with the FUT039S MINI Receiver.
- Turn off the Receiver (Removing power from the power supply)
-Turn on the Receiver
-When the Led strip connected to the Receiver lights up, within 3 seconds, press repeatedly (at least 1 time per second) on one of the "I" symbols located at the bottom of the remote control in correspondence with the area you wish to associate.
- If the synchronization was successful, the LED flashes.
Be the first to ask a question about this product!