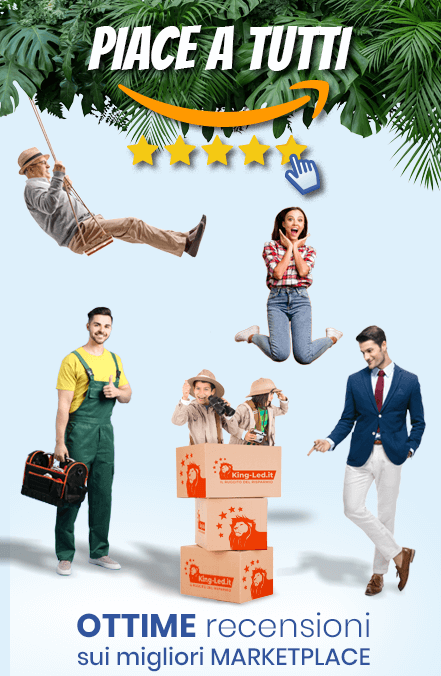 Mi-Light UW01 Pool Lamp 15W RGB+CCT IP68 - LORA Protocol
Mi-Light LORA System 433MHz Outdoor and Garden Pool / Fountain Lights
Hai partita iva e operi nel settore Illuminotecnica? Clicca e scopri grandi vantaggi!
A te dedichiamo solo il meglio
Diamo il giusto valore al tuo lavoro, con prezzi esclusivi e servizi dedicati grazie ai quali rendere più efficace e produttiva la tua attività quotidiana.
TI REGISTRI E RISPARMI FINO AL 30%
Iscriviti subito sul nostro sito e acquista a prezzi scontati fino al 30% i nostri prodotti di illuminazione Led.
Ma i vantaggi non finiscono qui: ti garantiamo tutta l'assistenza tecnica di cui necessiti, prodotti in pronta consegna e spedizioni rapidissime, in 24/48 ore. Dedichiamo a te, che hai partita IVA, prezzi e servizi unici.
Cosa aspetti? Registrati e segui il ruggito del risparmio.
Chiudi
2 years minimum warranty / substitution of returned product within 2 working days
Always PRIME shipping with GLS or UPS courier. Delivery within 3-5 days.
You have 30 days for withdrawal and you always get a refund.
DESCRIPTION
Underwater spotlight for pool, made of 316 Stainless Steel.
Works with Lora 433MHz protocol.
Thanks to the Lora system, this spotlight can be controlled from up to 50mt out of the water and up to 50cm underwater.
The stainlees steel body is IP68 waterproof and works at low voltage both at AC 12V or DC 12/24V. This makes this spotlight safe and convenient for installations in pools, fountains or simply as a garden light.
You will be able to obtain up to 16 million colours, thanks to RGB and white light mix.
Another interesting functionality of this spotlight is its RGB+CCT light.
This Led spotlight has RGB lights to manage any colour, and 2700K/6500K Led chips that allow to have a white light range that goes from 2700K to 6500K and viceversa.
DATASHEET
Product Name: 15W RGB+CCT Wall-mounted 
Underwater Light (LoRa 433MHz)
Model No.: UW01
Power: 15W
Input Voltage: AC12V / DC12~24V
Working Temperature: -20~45℃
RF: 433MHz
Modulation Method: LoRa spread spectrum
Control distance: 50m (Lamps into 0.5m underwater)
Color temperature: 2700K~6500K
Luminous Flux: 1100LM
Light Efficiency: 72LM/W
CRI: >80
Lifespan: 50000h
Beam Angle: 160°
IP Rate: IP68
Housing Material: 316 Stainless Steel+PC
WORKS WITH FUT086 REMOTE CONTROLLER or GATEWAY WL-433 AND ALLOWS YOU TO:
Turn light on and off

Dim light from 0% to 100%

Manage dynamic white light (2700K-6500K)

Manage RGB light

Manage color saturation

Choose between 9 light game modes

Manage light in groups or individually

The gateway allows you to manage your lights with Google Assistant and Amazon Alexa
HOW TO SYNC A SPOTLIGHT WITH A CONTROLLER?
Cut the power

Reconnect the power

As soon as the underwater spotlights turns on, repeatedly press the "I" symbol on one of the 4 zones on the remote controller. If the syncing was successful the spotlight will flash 3 times.

If the syncing didn't work, please control if the batteries in the remote control are working and check the connection.

Repeat the syncing process.
Be the first to ask a question about this product!