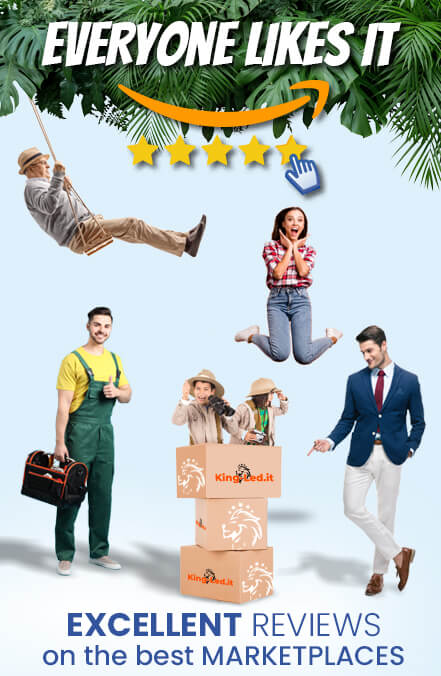 Sonoff 4CH Pro E Sonoff 4CH Pro R2
Smart World SONOFF
Do you have a VAT number and work in the lighting industry? Click and discover great advantages!
We dedicate only the best to you
We value your work through dedicated prices and services that will help you make your daily job easier and more effective.
REGISTER AND SAVE UP TO 30%
Register on our website now and buy our Led lighting products at discounted prices up to 30%.
But advantages don't end here: we guarantee you all the technical assistance you need, products ready for delivery and fast shipping. We dedicate to you who have a VAT number unique prices and services.
What are you waiting for? Register and follow the roar of saving.
Close
2 years minimum warranty / substitution of returned product within 2 working days
Always PRIME shipping with GLS or UPS courier. Delivery within 3-5 days.
You have 30 days for withdrawal and you always get a refund.
Sonoff 4CH Pro e 4CH Pro R2 sono interruttori WiFi a 4 gang. Supportano il passaggio da 3 modalità di lavoro: interblocco / autobloccante / a impulsi e entrambi i supporti per impostare il ritardo 1-16 in modalità impulso. Questa funzione ti consente di accendere il tuo interruttore per alcuni secondi e poi si spegne, il che funziona come un interruttore a impulsi. Si integrano con un modulo ricevitore RF da 433,92 MHz, rendendo possibile il loro controllo tramite RF Remote . Gli interruttori intelligenti sono montati su guida DIN.
Gli utenti possono accendere / spegnere da remoto le luci / elettrodomestici collegati tramite l'app iOS / Android eWeLink o il telecomando RF 433 MHz. Possono creare 8 timer singoli / ripetuti / conto alla rovescia per accendere / spegnere automaticamente all'ora specificata. I timer possono essere eseguiti anche quando la rete non è disponibile. Per consentire ai dispositivi di essere controllati da altri utenti, gli utenti possono semplicemente condividere i dispositivi con altri account e consentire autorizzazioni temporizzate specificate. Gli utenti possono persino creare scene o scene intelligenti per attivare / disattivare l'interruttore.
SPECIFICHE
Intervallo di tensione: 90-250 V CA (50/60 Hz) / 5-24 V CC

Corrente massima: 10 A / banda

Potenza massima: 2200 W / banda

Frequenza wireless: WiFi 2,4 GHz 

Standard wireless: 802.11 b / g / n e 433,92 MHz

Meccanismo di sicurezza: WPA-PSK / WPA2-PSK

Materiale della custodia: ABS ignifugo V0

Gang: 4

Dimensione : 145 * 90 * 40 (mm)

Temperatura operativa (consigliata): 0ºC-40ºC (32 ° F-104 ° F)

Umidità operativa: 5% -90% UR, senza condensa
Be the first to ask a question about this product!