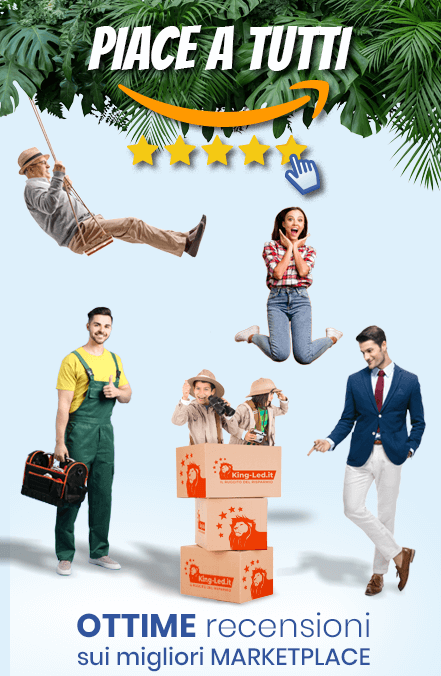 Sonoff Bridge Ponte 433 Mhz Convertitore Di Segnale Wi-Fi
Top Brand Sonoff Controllers SONOFF
Hai partita iva e operi nel settore Illuminotecnica? Clicca e scopri grandi vantaggi!
A te dedichiamo solo il meglio
Diamo il giusto valore al tuo lavoro, con prezzi esclusivi e servizi dedicati grazie ai quali rendere più efficace e produttiva la tua attività quotidiana.
TI REGISTRI E RISPARMI FINO AL 30%
Iscriviti subito sul nostro sito e acquista a prezzi scontati fino al 30% i nostri prodotti di illuminazione Led.
Ma i vantaggi non finiscono qui: ti garantiamo tutta l'assistenza tecnica di cui necessiti, prodotti in pronta consegna e spedizioni rapidissime, in 24/48 ore. Dedichiamo a te, che hai partita IVA, prezzi e servizi unici.
Cosa aspetti? Registrati e segui il ruggito del risparmio.
Chiudi
2 years minimum warranty / substitution of returned product within 2 working days
Always PRIME shipping with GLS or UPS courier. Delivery within 3-5 days.
You have 30 days for withdrawal and you always get a refund.
Input Voltage

5V
IP rating

IP20
Frequency

802.11b/g/n, 433 MHz
Size

62 x 62 x 20 mm
Certificate

CE / RoSH
Warranty

2 years
DESCRIZIONE
Questo RF Bridge 433 può convertire la maggior parte dei telecomandi RF da 433.92 MHz in wireless WiFi. Aggiungendo il bridge wireless RF all'app iOS / Android eWeLink WiFi in modalità wireless, è possibile aggiungere fino a quattro RM433 RF o allarmi, anche sommandoli (massimo 4 dispositivi). Un telecomando può memorizzare fino a 4 dispositivi, quindi 16 dispositivi che supportano la frequenza 433 MHz possono essere aggiunti all'app tramite la rete WiFi / 2/3 / 4G.
Può essere utilizzato per la maggior parte dei prodotti telecomandati RF da 433.92 MHz come interruttore controllato RF, come presa controllata RF, come lampadina controllata RF, come apriporta controllato da RF, ecc. È possibile impostare in totale 8 timer di programma / conto alla rovescia / ciclo per girare accensione / spegnimento dei prodotti controllati RF.
Ancora più interessante è il fatto che lavori con la frequenza 433.92 sensore magnetico porta MHz, 433.92 MHz  sensore IR corpo umano, e più altri 433.92 MHz. Si noti che la push dell'allarme arriva solo nell'account del proprietario, gli utenti che sono condivisi non possono visualizzare il push dell'allarme.
SPECIFICHE
Alimentazione: USB 5 V

Standard Wireless: WiFi 802.11b/g/n, 433 MHz

Meccanismo di sicurezza: WPA-PSK/WPA2-PSK

Dimensioni del prodotto: 62*62*20 (mm)

Data sheet
Input Voltage

5V

IP rating

IP20

Frequency

802.11b/g/n, 433 MHz

Size

62 x 62 x 20 mm

Certificate

CE / RoSH

Warranty

2 years
Be the first to ask a question about this product!