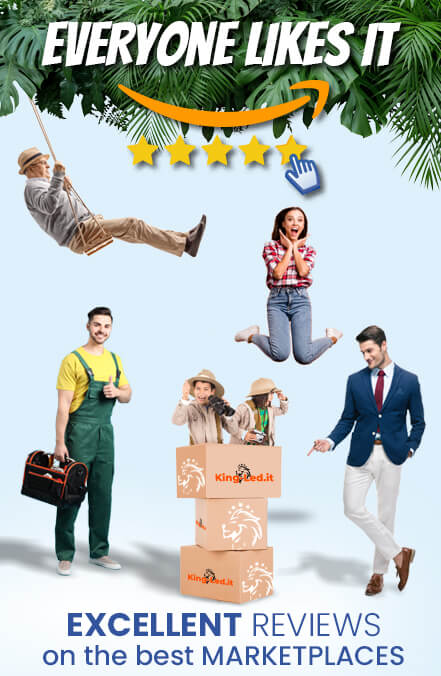 Smart Digital Thermostatic valve for radiators
Smart World TUYA
Do you have a VAT number and work in the lighting industry? Click and discover great advantages!
We dedicate only the best to you
We value your work through dedicated prices and services that will help you make your daily job easier and more effective.
REGISTER AND SAVE UP TO 30%
Register on our website now and buy our Led lighting products at discounted prices up to 30%.
But advantages don't end here: we guarantee you all the technical assistance you need, products ready for delivery and fast shipping. We dedicate to you who have a VAT number unique prices and services.
What are you waiting for? Register and follow the roar of saving.
Close
2 years minimum warranty / substitution of returned product within 2 working days
Always PRIME shipping with GLS or UPS courier. Delivery within 3-5 days.
You have 30 days for withdrawal and you always get a refund.
| | |
| --- | --- |
| | Input Voltage |
| | |
| --- | --- |
| | Size |
If you are looking for a device to control the heating in your home via smartphone, this smart digital thermostatic valve for radiators is just the thing for you. Furthermore, through this device, you can control your heaters Vocally.
Turn the heaters on or off while you are away from home, or change the temperature while you are comfortably seated on the sofa thanks to a voice command to Alexa or Google Home.
By purchasing multiple smart thermostatic valves, you can adjust the heat and temperature room by room without wasting energy. In addition, thanks to the new "Open window" function, you can avoid wasting energy.
The smart thermostatic valve when it detects a sudden change in temperature by suspending the supply of heat for a certain period. Easy and quick to install, this valve is powered by 2 AA 1.5 batteries (not included). The configuration is really simple and intuitive.
The intelligent system of this smart valve will allow you to set 3 weekly programs and 6 time slots to have the ideal temperature at any time of the day.Included in the box you will have: the thermostatic valve, 3 adapters ( RA, RAV, RAVL) and instruction manual. Here are all the functions: Remote access: Always everything under control, wherever you are.
Voice control: "Hey google, set the living room temperature to 20 ° C!" (compatible with both the Google voice assistant and the Amazon Alexa voice assistant)
Programs and Timers: Adjust the temperature thanks to the weekly programs and preset time slots
Sharing: You can decide to share the device with the other components of the family.
Quick configuration: It takes less than 2 minutes to configure the thermostatic valve from smartphone.
TECHNICAL FEATURES:
Power supply: 2 * AA batteries
Insulation cond.: 0-50 ℃
Display accuracy : 0.5 ℃
Programs: weekly cycles
Sensor : NTC (10k) 1 %
Valve diam (mm) : 53 * 89.5mm
Max diam : 4.5mm
Temp. display : 1 ~ 70 ° C
Temp range : 5 ~ 35 ° C
Max current : 90mA
Temp. operating temperature : -10 ~ 60 ° C
Thread size : M30 * 1.5
Model No .: HY368
Homcloud code: XH-TVZ
Be the first to ask a question about this product!