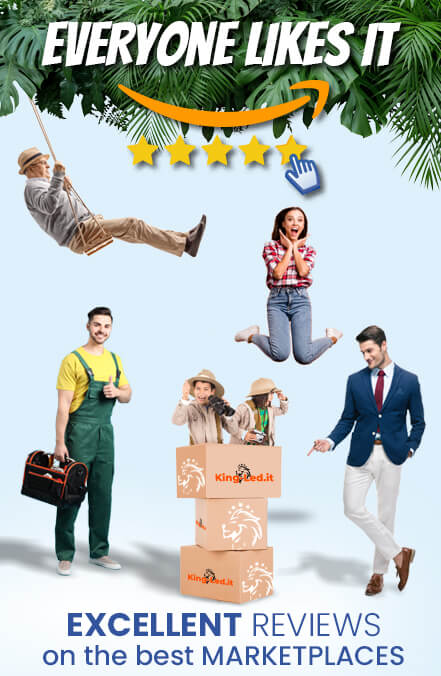 Security Cam Wi-Fi speed 12S 360° Pan & Tilt
Smart World TUYA Video Security Smart Cameras WiFi Cameras
Do you have a VAT number and work in the lighting industry? Click and discover great advantages!
We dedicate only the best to you
We value your work through dedicated prices and services that will help you make your daily job easier and more effective.
REGISTER AND SAVE UP TO 30%
Register on our website now and buy our Led lighting products at discounted prices up to 30%.
But advantages don't end here: we guarantee you all the technical assistance you need, products ready for delivery and fast shipping. We dedicate to you who have a VAT number unique prices and services.
What are you waiting for? Register and follow the roar of saving.
Close
2 years minimum warranty / substitution of returned product within 2 working days
Always PRIME shipping with GLS or UPS courier. Delivery within 3-5 days.
You have 30 days for withdrawal and you always get a refund.
This PAN & TILT indoor wifi camera powered by 5V 1 A DC with 360 ° vision is recommended for those who want to monitor their environments through their smartphone. Thanks to the Smart Life app that can be downloaded for free, both from the App Store and Google Play, you can control your home or office at any time.
This security camera model is compatible with Amazon Echo Show / Fire stick TV and Google Nest Hub / Chromecast.
Thanks to your smartphone you can quickly rotate your smart security camera thanks to the smooth & fast technology to have a complete view of the environment: from 0 to 355 ° horizontally, from 0 to 60 ° vertically The camera is equipped with two-way audio: you can listen and talk through the camera (NOT simultaneously).
If you want you can activate the "send a notification when noise is detected" function. Also, if you are looking for a camera with a motion detector, then this camera is the one for you! As soon as the system detects a movement, it sends a notification to your smartphone and at the same time takes a photo that you can view at any time you want!
Thanks to the resolution in Full HD 1980x1080 (2 MP) the images are always very clear and bright, even at night with automatic night vision.
Inside the camera you can insert a memory card up to 128Giga (not included) to save and review images at any time. With the SD card inserted you can also have a continuous recording 24 hours a day, 7 days a week!
In the package included: micro USB cable, power adapter, screws and anchors for anchoring, bracket, double-sided adhesive, pin reset, Italian / English manuals
Functions:
- PAN & TILT rotation: Rotation in all directions from smartphone
- Remote management: View in real time through the smartphone
- Two-way audio: speak through the camera
- Night Vision: Automatic night recording with excellent resolution
- Multiple Sharing: share the device with the whole family
- Quick setup: It takes less than 2 minutes
Technical Features:
- Power supply: 5V DC 1A (micro USB cable and power adapter included)
- Resolution: Full HD 2Mp, 1920x1080
- Motion detector: Yes, max distance 9m
- IR Distance: 10m- Viewing angle: 105 °
- Rotation: 0 ° / + 355 ° horizontally, 0 ° / + 60 ° vertical (via smartphone)
- Waterproof rating: IP20, only for us o internal
- Dimensions: 76x73x116 mm- Lens: 3.6mmF2.0, 105 °
- Standard Wifi: 2.4G 2.4835 GHz wifi
- Channel Frequency: Supports 20 / 40MHz
- Wifi Security: WPA-PSK / WPA2-PSK
Be the first to ask a question about this product!