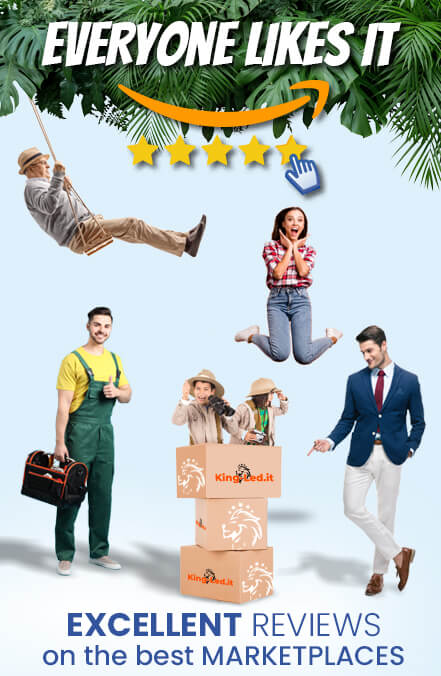 Security Cam Wifi SPEED 11S Waterproof
Smart World TUYA Video Security Smart Cameras IP Cameras
Do you have a VAT number and work in the lighting industry? Click and discover great advantages!
We dedicate only the best to you
We value your work through dedicated prices and services that will help you make your daily job easier and more effective.
REGISTER AND SAVE UP TO 30%
Register on our website now and buy our Led lighting products at discounted prices up to 30%.
But advantages don't end here: we guarantee you all the technical assistance you need, products ready for delivery and fast shipping. We dedicate to you who have a VAT number unique prices and services.
What are you waiting for? Register and follow the roar of saving.
Close
2 years minimum warranty / substitution of returned product within 2 working days
Always PRIME shipping with GLS or UPS courier. Delivery within 3-5 days.
You have 30 days for withdrawal and you always get a refund.
If you are looking for an outdoor wifi camera (waterproof IP65) for video surveillance compatible with Google Assistant 6 Amazon Alexa we recommend that you do not miss this product. Thanks to the smart system you can observe the images of your wifi camera in real time directly from your smartphone.
The surveillance camera is equipped with 2 antennas to always have excellent reception, without interference. Through your smartphone you can adjust the horizontal rotation of 150°. Instead, manually, you can also adjust the vertical rotation (to be done by hand) of 90°. In addition, thanks to the bidirectional Audio function you can listen and talk through the camera (NOT simultaneously).
Thanks to the "Video Flip-Screen Rotation" function you can flip images vertically at any time. The resolution in 2mp FULL HD (1980x1080) will allow you to get movies of excellent quality and very sharp even at night, with automatic night vision.
The wi-fi camera is equipped with a PIR sensor that detects the movements, both of animals and people, and sends a real-time notification to your smartphone. If you want, you can also activate the "Take Snapshot" function to detect motion and allow you to receive it on your smartphone in real time.
The camera supports a memory card that supports up to 128Giga of memory. With the memory card inserted can record 24/7.
In the package you will find included: SPEED 11S camera, bracket, screws for fixing, power supply and a wrench for adjustment.
Functions:
Remote activation: Always everything under control, wherever you are
Two-way audio: communicates with whoever is in front of the camera
Night Vision: Automatic, clear and bright
Sharing: Choose which family members to share the chosen device with.configuring the camera with the smartphone takes less than 2 minutes.
Technical specifications:
- Power supply: DC 12V / 1A
- Lens: 4mm, 110 °
- Resolution: 2Mp 1920x1080
- Viewing angle: 110 °
- Horizontal rotation angle: -75 ° / + 75 ° by smartphone
- Vertical rotation angle: 90 ° manually
- Wifi security: WPA-PSK / WPA2-PSK
- Communication protocol: HTTP, DHCP, DNS, RTSP, TCP / IP
- IR distance (infrared night): 10m
- PIR max motion detection distance: PIR sensor 9m
- Protection degree: IP65 (outdoor)
- Temperat. : -20 ℃ ~ 50 ℃
- Dimensions: 180x75x100mm
- Weight: 240g
- Wi-Fi Standard: 2.4G ∼ 2.4835GHz wifi (IEEE802.11b / g / n)
- Storage: Micro SD CARD max 128Gb or directly on the cloud. (extra cost)
- Audio: bidirectional
- Night vision: automatic
Be the first to ask a question about this product!