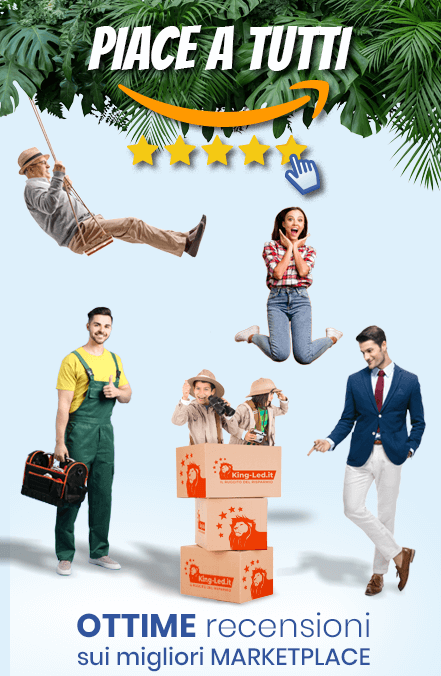 Sonoff Sonda Trasmettitore Di Temperatura DS18B20 Impermeabile 1m
Top Brand Sonoff Controllers SONOFF
Hai partita iva e operi nel settore Illuminotecnica? Clicca e scopri grandi vantaggi!
A te dedichiamo solo il meglio
Diamo il giusto valore al tuo lavoro, con prezzi esclusivi e servizi dedicati grazie ai quali rendere più efficace e produttiva la tua attività quotidiana.
TI REGISTRI E RISPARMI FINO AL 30%
Iscriviti subito sul nostro sito e acquista a prezzi scontati fino al 30% i nostri prodotti di illuminazione Led.
Ma i vantaggi non finiscono qui: ti garantiamo tutta l'assistenza tecnica di cui necessiti, prodotti in pronta consegna e spedizioni rapidissime, in 24/48 ore. Dedichiamo a te, che hai partita IVA, prezzi e servizi unici.
Cosa aspetti? Registrati e segui il ruggito del risparmio.
Chiudi
2 years minimum warranty / substitution of returned product within 2 working days
Always PRIME shipping with GLS or UPS courier. Delivery within 3-5 days.
You have 30 days for withdrawal and you always get a refund.
Input Voltage

3 - 5V
DESCRIZIONE
Sensore di temperatura / termometro impermeabile DS18B20. La sonda utilizza il chip del sensore di temperatura DS18B20 originale. È impermeabile, resistente all'umidità ed antiruggine grazie al tubo in acciaio inossidabile di alta qualità incapsulato. Nessun altro componente, ed un'unica interfaccia bus singola.
La sonda adotta il chip del sensore di temperatura DS18B20. La sonda è realizzata in acciaio inossidabile ed è impermeabile, a prova di umidità e anti-ruggine. La custodia è in acciaio inossidabile da 6 * 50 mm e la lunghezza del cavo di 100 cm. La sonda di temperatura non richiede componenti esterni ed ha un'interfaccia bus singola.
SPECIFICHE
Intervallo di alimentazione: da 3,0 V a 5,5 V

Risoluzione regolabile: 9 - 12

Intervallo di temperatura di funzionamento: da -55 ° C a + 125 ° C

Cavo di uscita: rosso (VCC), nero (GND), giallo (dati)

Lunghezza del cavo: 100 cm

Dimensioni tubo in acciaio inossidabile: 6 × 45 mm
Be the first to ask a question about this product!